Ep 31: Book Recs from author Laura Batten
Meet Laura Batten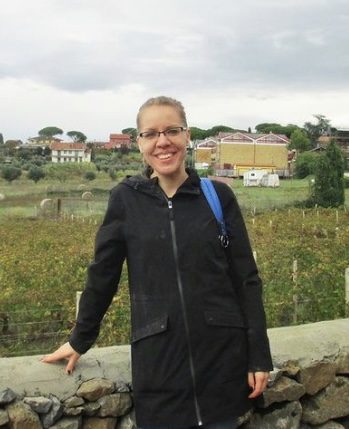 Today I have the pleasure of introducing you to Laura from the Spaghetti Friendship on Instagram. When she's not writing her new book (out Oct 2022), she's at home with her cat and dreaming about Italy.
Ep 31: Book Recommendations from Laura Batten
You can listen to Episode 31 here and hear what books Laura recommended for us.
Book Recommendations by Laura Batten
This article contains affiliate links to help you find what you need quicker and at no extra cost to you. I will be minimally compensated by the company.
Devil in the White City by Erik Larson
Destination: Chicago, 1890s
Summary:
Two men, each handsome and unusually adept at his chosen work, embodied an element of the great dynamic that characterized America's rush toward the twentieth century. The architect was Daniel Hudson Burnham, the fair's brilliant director of works and the builder of many of the country's most important structures, including the Flatiron Building in New York and Union Station in Washington, D.C. The murderer was Henry H. Holmes, a young doctor who, in a malign parody of the White City, built his "World's Fair Hotel" just west of the fairgrounds—a torture palace complete with dissection table, gas chamber, and 3,000-degree crematorium.
Burnham overcame tremendous obstacles and tragedies as he organized the talents of Frederick Law Olmsted, Charles McKim, Louis Sullivan, and others to transform swampy Jackson Park into the White City, while Holmes used the attraction of the great fair and his own satanic charms to lure scores of young women to their deaths. What makes the story all the more chilling is that Holmes really lived, walking the grounds of that dream city by the lake.
2. My One Square Inch of Alaska by Sharon Short
Destination: Alaska
Summary:
A pair of siblings escape—along with a Siberian Husky—the strictures of their 1950s industrial Ohio town on the adventure of a lifetime.
Talented high-school senior Donna Lane yearns to leave her Midwestern home in pursuit of a career in design, but she feels obligated to stay and care for her helpless father and her younger brother, Will. In fragile health and obsessed with the television show Sergeant Striker and the Alaskan Wild, Will's dearest companion is a mute Siberian Husky named Trusty. The arrival of two outsiders inspires Donna to consider her dreams anew. Then Will falls sick, and Donna packs up their yellow convertible—with Will, Trusty, and a road atlas—and sets off for the Alaskan Territory
3. Love and Gelato by Jenna Evans Welch
Destination: Florence, Italy
Summary:
Lina is spending the summer in Tuscany, but she isn't in the mood for Italy's famous sunshine and fairy-tale landscape. She's only there because it was her mother's dying wish that she get to know her father. But what kind of father isn't around for sixteen years? All Lina wants to do is get back home.
But then Lina is given a journal that her mom had kept when she lived in Italy. Suddenly Lina uncovers a magical world of secret romances, art, and hidden bakeries. A world that inspires Lina, along with the ever-so-charming Ren, to follow in her mother's footsteps and unearth a secret that has been kept for far too long. It's a secret that will change everything Lina knew about her mother, her father—and even herself.
People come to Italy for love and gelato, someone tells her, but sometimes they discover much more.
Also mentioned:
Connect with Laura Batten
Instagram @spaghettifriendship
Other Resources You'll Love
Ep 25: 4 Great Books Set in Italy
Ep 22: 5 Amazing Cozy Mystery series with Vicki Delany
Here are 3 ways we keep up with our favorite novels and what's coming out each month:
Join Audible Premium Plus and get two free books. You'll be able to listen to old favorites or new titles each month.
Try Kindle Unlimited Membership Plan for free for one month. You can find all the new books coming out each month.
With your Amazon Prime membership, you have access to their Amazon First Reads each month. One free, new book at the beginning of each month! Not a member? Sign up now and get one month FREE!
Let's Keep in Touch
Thanks for listening to this episode. So, let's keep in touch!
You can find me on Instagram: @literaryescapespodcast
Sign up for my newsletter and I'll send you my Read Around the World Challenge. Let's explore the world together one book at a time! CLICK HERE to sign up