Ep 24: 7 Great Books Set in England
How does a visit to the English Countryside sound? So, on today's episode, we are going to visit England through several different genres. And, I've got a fabulous list of books set in England just for you!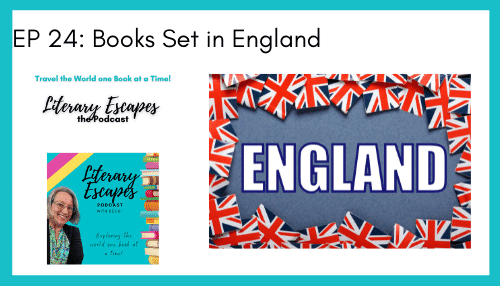 No Time to Read?
So, no time to read this post? No worries! How about instead you take a listen to the podcast. It's Episode 24: Books Set in England.
Books set in England
So now, if you're ready for a literary escape to England then let's go!
As I mentioned earlier, I've got several different genres for you, so you should find one to take you away. Let me know in the comments which books you are going to read!
Books mentioned in this episode
Genre: Historical Fiction
Destination: New York, London, and
Genre: Murder Mystery
Destination: St Mary Meads, England
Genre: Contemporary Fiction
Destination: Cornwall
Genre: Historical Mystery
Destination: Victorian London
Genre: Classic/British Humor
Destination: English Village of Silverstream
Genre: Women's Fiction
Destination: Cornwall
Genre: Romantic Comedy
Destination: London
More Resources You'll Love
You can check out all the books mentioned in the podcast here.
Literary Escape Society – Check out what the Literary Escape Society is all about. I'd love to have you join this special community!
Here are 3 ways we keep up with our favorite novels and what's coming out each month:
Join Audible Premium Plus and get two free books. You'll be able to listen to old favorites or new titles each month.
Try Kindle Unlimited Membership Plan for free for one month. You can find all the new books coming out each month.
With your Amazon Prime membership, you have access to their Amazon First Reads each month. One free, new book at the beginning of each month! Not a member? Sign up now and get one month FREE!
Keep in Touch with Me
hey, thanks for checking out my podcast today! I'd love to have you hang out with me some more. So, why not join me over on Instagram.
Instagram: @literaryescapespodcast
Even better, come join me on my email list! This is where all my favorite people hang out with me and I'd love you to be one of them.
Email: Get a Freebie for my Read Around the World Challenge. CLICK HERE to sign up
Other Episodes you Should Check Out
Ep 21: 5 Great Books Set in Australia
Ep 23: Books that Inspire Travel with Elizabeth from A Suitcase Full of Books