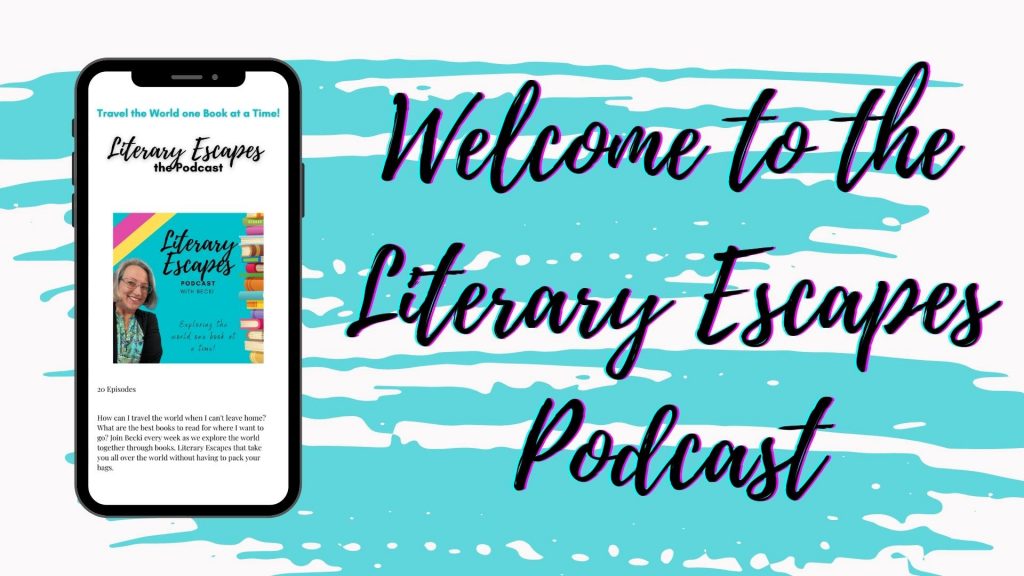 Literary Escapes Podcast
How can I travel the world when I can't leave home right now? Welcome to the Literary Escapes Podcast, where we explore the world together, one book at a time.
Host Becki Svare takes a deep dive with authors and other literary experts to bring you your latest literary escapes. We know it's not always possible to get out and see the world, but we can always travel and explore the world through our books.
Are you an author who would like to join me for a conversation on the podcast?
CLICK HERE to get more information and fill out the form.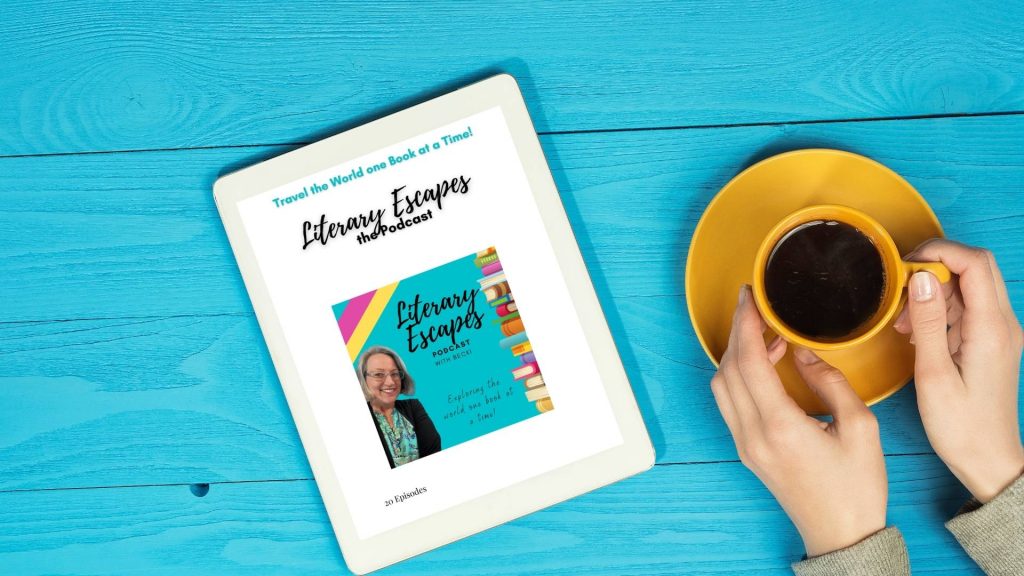 Tune in for in-depth discussions with authors for the behind-the-story secrets from your favorite books, how books settings were chosen and researched, which literary escapes your favorite book influencers love, and what to read before you head off to your next vacation.
With a lifetime of experience traveling, working in the travel industry, working in libraries, and being a book nerd, there is no better literary escape guide to help you find your next escape.
The Literary Escape Podcast community is growing quickly, we're happy to have you here with us!
Subscribe to the Literary Escapes Podcast today!
Show Notes
List of all Episodes
2023 Season Episodes
Episode 78: Author Interview with Brynn Barineau {CLICK HERE to Listen}
Episode 77: Author Interview with Jennifer Probst {CLICK HERE to Listen}
Episode 76: Author Interview with Carissa Turpin {CLICK HERE to Listen}
Episode 75: Books Set in South Africa {CLICK HERE to Listen}
Episode 74: Author Interview with Stephania Thompson {CLICK HERE to Listen}
Episode 73: Author Interview with Katy Berritt {CLICK HERE to Listen}
Episode 72: Best Episodes of 2022 {CLICK HERE to Listen}
2022 Season Episodes
Episode 71: Holiday Escape with Author Abigail Sharpe {CLICK HERE to Listen}
Episode 70: Holiday Escape with Author Barbara Barrett {CLICK HERE to Listen}
Episode 69: Holiday Escape with Author Aedyn Brooks {CLICK HERE to Listen}
Episode 68: Holiday Escapes with Author Kerry Evelyn {CLICK HERE to Listen}
Episode 67: 2022 Holiday Escapes Around the World {CLICK Here to Listen}
Episode 66: Author Interview with Connie Mann {CLICK HERE to Listen}
Episode 65: Author Interview with Winnie Winkle {CLICK HERE to Listen}
Episode 64: Author Interview with Tamatha Cain {CLICK HERE to Listen}
Episode 63: Books Set in Canada {CLICK HERE to Listen}
Episode 62: Author Interview with Stephanie Harrell {CLICK HERE to Listen}
Episode 61: Author Interview with Bonnie Paulson {CLICK HERE to Listen}
Episode 60: Books Set in Spain {CLICK HERE to Listen}
Episode 59: Author Interview with Kerry Evelyn {CLICK HERE to Listen}
Episode 58: Author Interview with Aria Bliss {CLICK HERE to Listen}
Episode 57: Books Set in Scotland {CLICK HERE to Listen}
Episode 56: Author Interview with TJ Logan {CLICK HERE to Listen}
Episode 55: Author Interview with Candace Colt {CLICK HERE to Listen}
Episode 54: Books Set in Historic London, England {CLICK HERE to Listen}
Episode 53: Author Interview with Brenna Ash {CLICK HERE to Listen}
Episode 52: Books Set in Greece {CLICK HERE to Listen}
Episode 51: Author Interview with Noreen Nasim {CLICK HERE to Listen}
Episode 50: Author Interview with Barbara Bennett {CLICK HERE to Listen}
Episode 49: Books Set on the Amalfi Coast, Italy {CLICK HERE to Listen}
Episode 48: Author Interview with Ann McIntosh {CLICK HERE to Listen}
Episode 47: Book Recommendations from Mayu {CLICK HERE to Listen}
Episode 46: Books Set in Iran {CLICK HERE to Listen}
Episode 45: Author Interview with Rachel Hauck {CLICK HERE to Listen}
Episode 44: Author Interview with Laura Drake {CLICK HERE to Listen}
Episode 43: Books Set in Hungary {CLICK HERE to Listen}
Episode 42: Author Interview with Elizabeth Moore Kraus {CLICK HERE to Listen}
Episode 41: Author Interview with Fiona Valpy {CLICK HERE to Listen}
Episode 40: Books Set in New York City {CLICK HERE to Listen}
Episode 39: Author Interview with Kate O'Keefe {CLICK HERE to Listen}
Episode 38: Author Interview with Amy S Peele {CLICK HERE to Listen}
Episode 37: Book Recommendations with Tamara Mason {CLICK HERE to Listen}
Episode 36: Books Set in Morocco {CLICK HERE to Listen}
Episode 35: Author Interview with Violet Howe {CLICK HERE to Listen}
Episode 34: Book Recommendations with Sheila {CLICK HERE to Listen}
Episode 32: Best of 2021 {CLICK HERE to Listen}
2021 Season Episodes 1-31
Episode 31: Author Interview with Laura Botten {CLICK HERE to Listen}
Episode 30: Author Interview with KC Dyer {CLICK HERE to Listen}
Episode 29: Book Recommendations from The Travelling Bookster {CLICK HERE to Listen}
Episode 28: 6 Holiday Escape Books You'll Love {CLICK HERE to Listen}
Episode 27: Books I'm Thankful For {CLICK HERE to Listen}
Episode 26: Author Interview with Elizabeth Thompson {CLICK HERE to Listen}
Episode 25: Books Set in Italy {CLICK HERE to Listen}
Episode 24: Books Set in England {CLICK HERE to Listen}
Episode 23: Book Recs from Elizabeth from A Suitcase Full of Books {CLICK HERE to Listen}
Episode 22: Author Interview with Vicki Delaney/Eva Gates {CLICK HERE to Listen}
Episode 21: Books Set in Australia {CLICK HERE to Listen}
Episode 20: Books Set in the Outer Banks, NC {CLICK HERE to Listen}
Episode 19: Spooky Books for Halloween Vacation {CLICK HERE to Listen}
Episode 18: Author Interview with Debbie Rix {CLICK HERE to Listen}
Episode 17: Author Interview with Olivia Lara {CLICK HERE to Listen}
Episode 16: Books Set in Scotland {CLICK HERE to Listen}
Episode 15: Books Set in Venice {CLICK HERE to Listen}
Episode 14: Book Recommendations with Karen {CLICK HERE to Listen}
Episode 13: Author Interview with Teri Wilson {CLICK HERE to Listen}
Episode 12: Books Set in Alaska {CLICK HERE to Listen}
Episode 11: Books Set in Paris {CLICK HERE to Listen}
Episode 10: Author Interview with Madeline Martin {CLICK HERE to Listen}
Episode 9: Book Recommendations with Olivia's Bookish World {CLICK HERE to Listen}
Episode 8: Author Interview with Tif Marcelo {CLICK HERE to Listen}
Episode 7: Books Set in the Netherlands {CLICK HERE to Listen}
Episode 6: Books Set in Florida {CLICK HERE to Listen}
Episode 5: Author Interview with Jan Moran {CLICK HERE to Listen}
Episode 4: Books Set in South Africa {CLICK HERE to Listen}
Episode 3: Book Recommendations with Sheila {CLICK HERE to Listen}
Episode 2: Author Interview with Rhys Bowen {CLICK HERE to Listen}
Episode 1: Welcome to Literary Escapes Podcast {CLICK HERE to Listen}