Ep 19: Spooky books for a Halloween Vacation
Are you ready for spooky books and a Halloween vacation?! In this episode, we are talking about spooky books and the creepy destinations that you can visit.
So, whether you're a fan of Stephen King or just like visiting creepy places near you, you'll want to take a listen to this episode!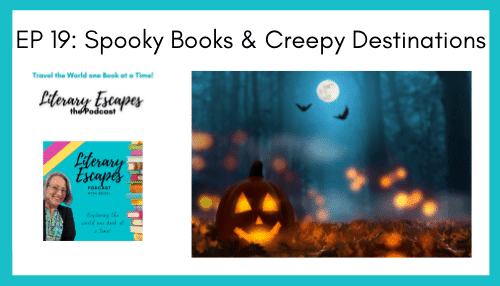 Listen to This Episode Now
You can listen to Episode 19 here or click the button below for your favorite podcast app.
Spooky Books & a Halloween Vacation
Ready to hit the road with your favorite spooky books? Check out these great spooky books and Halloween vacations (or any time of year) that go with them.
Spooky Books Mentioned in This Episode
It's the time of year where our thoughts head to Halloween and our books head to the dark and creepy! So, today we are visiting 6 spooky literary destinations!
1. The Shining by Stephen King
In the book, the story takes place at the Overlook Hotel somewhere in the Colorado Rockies. The Stanley Hotel in Estes Park, Colorado is said to have been the inspiration for the story and location. Parts of the TV miniseries were filmed here.
2. The Amityville Horror by Jay Anson
Set at 112 Ocean Avenue on Long Island, New York what the setting in the book. The house has since been"re-addressed" but it is still there. Whether the story is true or not, who knows?!
3. The Legend of Sleepy Hollow by Washington Irving
Sleepy Hollow, New York. The scene for Irving's legend of Icabod Crane. This is a great destination to visit because the town fully embraces the legend. You can go on ghostly tours any time of year, but I'm guessing Halloween is the best time to go!
4. Interview with the Vampire by Anne Rice
Set in 19th century New Orleans, LA. You can visit the Oak Alley Plantation – scenes from the movie were filmed here. but, it will give you a good feel for what it might have looked like back in the 1800s.
5. Frankenstein by Mary Shelley
Frankenstein Castle in mountains and forests overlooking the town of Darmstadt Germany. This area is said to have been the inspiration for Mary Shelly, who passed through this area a few years prior to publishing Frankenstein. Frankenstein Castle embraces its history and provides a "fully immersive haunted house" experience at Halloween.
Bran Castle in Transylvania, Romania is the scene for Dracula. It is currently a museum, so you can visit it any time of the year.
You can LEARN MORE about any of these books HERE
Other Resources You'll Love
Cozy Mysteries with Author Vicki Delany
Here are 3 ways we keep up with our favorite novels and what's coming out each month:
Join Audible Premium Plus and get two free books. You'll be able to listen to old favorites or new titles each month.
Try Kindle Unlimited Membership Plan for free for one month. You can find all the new books coming out each month.
With your Amazon Prime membership, you have access to their Amazon First Reads each month. One free, new book at the beginning of each month! Not a member? Sign up now and get one month FREE!
Let's Keep in Touch
Thanks for listening to this episode. Let's keep in touch!
You can find me on Instagram: @literaryescapespodcast
Sign up for my newsletter and I'll send you my Read Around the World Challenge. Let's explore the world together one book at a time! CLICK HERE to sign up