Ep 20: 8 Amazing Books Set in the Outer Banks
Are you wanting to get away to the beaches of North Carolina? In today's episode, I've got a fabulous list of books set in the Outer Banks just for you!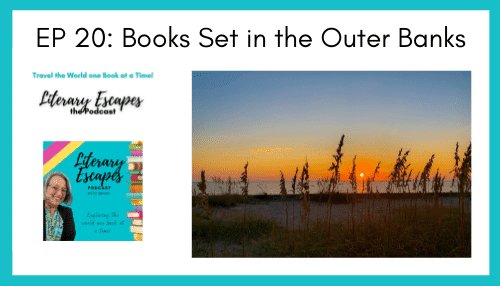 Ready to head to the Outer Banks?
For the month of October, the destination for the Literary Escape Society book club was the Outer Banks of North Carolina. If you've never been to the Outer Banks, let me just say it's a beautiful place to spend time!
So I'm sharing with you today a list of books set in the Outer Banks, in case you need an escape to the beach.
Listen to Books Set in the Outer Banks
Books mentioned in this episode
1. Summer Rental by Mary Kay Andrews
Genre: Women's Fiction
If you want a good women's fiction/romance, you'll want to check out Mary Kay Andrews. She has several books in the Outer Banks and along the South-Eastern Coast.
2. Outer Banks by Anne Rivers Siddons
Genre: Contemporary Fiction
You may want to check out the series that inspired the Netflix show Outer Banks.
3. The Outer Banks House by Diann Ducharme
Genre: Historical Mystery
If you prefer reading historical mysteries, then you'll want to check this book out.
4. Beachcomber by Karen Robards
Genre: Romantic Suspense
Because I know some of you love a good romantic suspense, here's one set in Okracoke in the Outer Banks.
5. By Book or by Crook by Eva Gates
Genre: Cozy Mystery
Who doesn't love a fun cozy mystery, am I right?! This one is set in the Bodie Island Lighthouse on the Outer Banks. In this series, there's a library in the lighthouse, how amazing is that?
6. Nights in Rodanthe by Nicholas Sparks
Genre: Contemporary Fiction
Are you a Nicolas Sparks fan? Sparks is another author that has several books set in the Outer Banks and along the coast. If you like his books, you could go on a nice long binge of beach books.
7. The Prayer Box by Lisa Wingate
Genre: Christian Fiction
This book sounds amazing. I haven't read it yet, but the premise sounds quite lovely. And, if you like it, it's the first in a 3-book series.
8. The Liars Child by Carla Buckley
Genre: Psychological Fiction
I'm ending my list here with a psychological fiction set in the Outer Banks. Even when you think you're doing the right thing, there are consequences.
Links from this episode
Literary Escape Society – Come check out my book club! If you like hanging out with book-minded, travel-loving women, then this might just be the community for you. CLICK HERE to see what this group has for YOU!
Here are 3 ways we keep up with our favorite novels and what's coming out each month:
Join Audible Premium Plus and get two free books. You'll be able to listen to old favorites or new titles each month.
Try Kindle Unlimited Membership Plan for free for one month. You can find all the new books coming out each month.
With your Amazon Prime membership, you have access to their Amazon First Reads each month. One free, new book at the beginning of each month! Not a member? Sign up now and get one month FREE!
Keep in Touch with Me
Instagram: @literaryescapespodcast
Email: Get a Freebie for my Read Around the World Challenge. CLICK HERE to sign up
Other Episodes you Should Check Out
11 Books Set in the Outer Banks
If you enjoyed this episode, I'd love for you to share it!