Ep 29: Book Recommendations from the Travelling Bookster Imogen
What happens when a flight attendant is furloughed because of a pandemic? Well, she reads – a LOT! And we get to benefit from it! Imogen, from the Travelling Bookster on Instagram is sharing some of her favorite travels and books with us.
Meet Imogen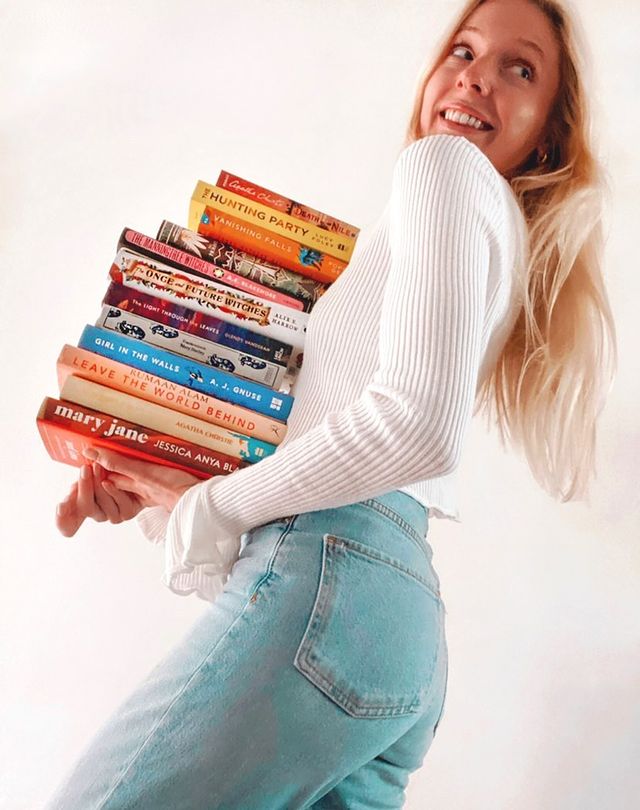 Today I have the pleasure of introducing you to Imogen from the Travelling Bookster on Instagram. She's an active part of the social media's Bookstagram community. When Covid shut the world down, especially travel, Imogen found herself with a lot more time on her hands and decided to put it to good use reading.
✈️ cabin crew travelling the 🌎 with a good book
Ep 29: Book Recommendations from the Travelling Bookster Imogen
You can listen to Episode 29 here and hear what books Imogen recommended for us.
Book Recommendations by Imogen
Books mentioned in this episode
This article contains affiliate links to help you find what you need quicker and at no extra cost to you. I will be minimally compensated by the company.
1. The Enchanted April by Elizabeth von Arnim
Destination: Portofino, the Italian Riviera
Summary:
Four very different women, looking to escape dreary London for the sunshine of Italy, take up an offer advertised in the Times for a "small medieval Italian Castle on the shores of the Mediterranean to be let furnished for the month of April." As each blossoms in the warmth of the Italian spring, quite unexpected changes occur.
2. The Cat and the City by Nick Bradley
Destination: Tokyo, Japan
Summary:
In Tokyo—one of the world's largest megacities—a stray cat is wending her way through the back alleys. And, with each detour, she brushes up against the seemingly disparate lives of the city-dwellers, connecting them in unexpected ways. But the city is changing. As it does, it pushes her to the margins where she chances upon a series of apparent strangers—from a homeless man squatting in an abandoned hotel, to a shut-in hermit afraid to leave his house, to a convenience store worker searching for love.
The cat orbits Tokyo's denizens, drawing them ever closer. In a series of spellbinding, interlocking narratives—with styles ranging from manga to footnotes—Nick Bradley has hewn a novel of interplay and estrangement; of survival and self-destruction; of the desire to belong and the need to escape. Formally inventive and slyly political, The Cat and The City is a lithe thrill-ride through the less-glimpsed streets of Tokyo.
3. Summerwater by Sarah Moss
Destination: Scotland
Summary:
They rarely speak to each other, but they take notice—watching from the safety of their cabins, peering into the half-lit drizzle of a Scottish summer day, making judgments from what little they know of their temporary neighbors. On the longest day of the year, the hours pass nearly imperceptibly as twelve people go from being strangers to bystanders to allies, their attention forced into action as tragedy sneaks into their lives.
At daylight, a mother races up the mountain, fleeing into her precious dose of solitude. A retired man studies her return as he reminisces about the park's better days. A young woman wonders about his politics as she sees him head for a drive with his wife, and tries to find a moment away from her attentive boyfriend. A teenage boy escapes the scrutiny of his family, braving the dark waters of the loch in a kayak. This cascade of perspective shows each wrapped up in personal concerns, unknown to each other, as they begin to notice one particular family that doesn't seem to belong. Tensions rise, until nightfall brings an irrevocable turn.
Also mentioned:
The Summer Rental by Mary Kay Andrews
Mary Jane by Jessica Anya Blau
Connect to Imogen
Instagram @thetravellingbookster
Other Resources You'll Love
Great Books Set in the Outer Banks
Ep 22: 5 Amazing Cozy Mystery series with Vicki Delany
Ep 19: Spooky books for a Halloween Vacation
Here are 3 ways we keep up with our favorite novels and what's coming out each month:
Join Audible Premium Plus and get two free books. You'll be able to listen to old favorites or new titles each month.
Try Kindle Unlimited Membership Plan for free for one month. You can find all the new books coming out each month.
With your Amazon Prime membership, you have access to their Amazon First Reads each month. One free, new book at the beginning of each month! Not a member? Sign up now and get one month FREE!
Let's Keep in Touch
Thanks for listening to this episode. So, let's keep in touch!
You can find me on Instagram: @literaryescapespodcast
Sign up for my newsletter and I'll send you my Read Around the World Challenge. Let's explore the world together one book at a time! CLICK HERE to sign up