Ep 84: Author Interview with Sue Moorcroft
Today's episode is a peek inside my book club with a fun interview with author Sue Moorcroft. Sue shares some behind-the-scenes details about her book development and writing journey as we discuss our book of the month, One Summer in Italy, and several of her other books.
Want to support me & my podcast? I'd love for you to Buy me a coffee!
Meet Sue Moorcroft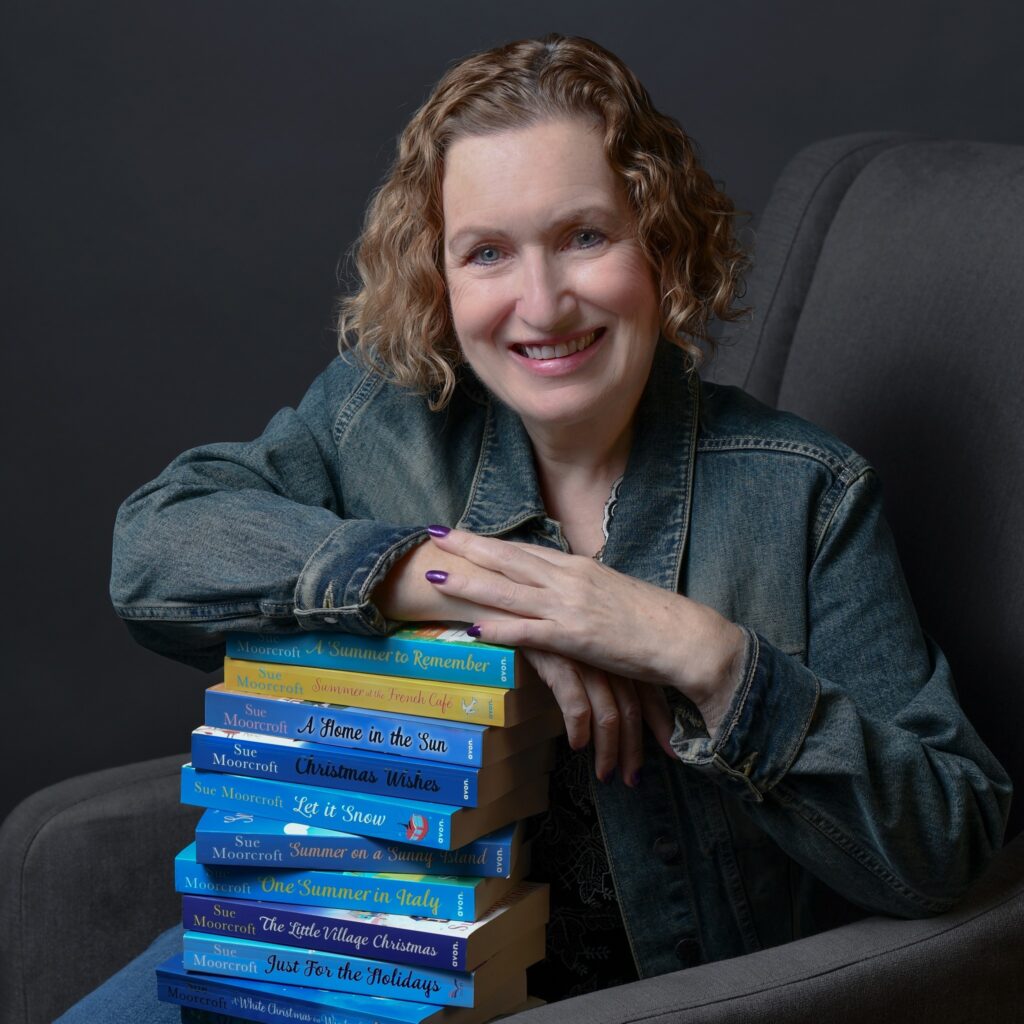 About Sue
An army kid, Sue was born in Germany and spent much of her childhood in Cyprus and Malta. She arrived in 'Civvy Street' in Northamptonshire, England shortly before she was ten. Making friends was much harder than it had been amongst the constantly shifting populace of a barracks so Sue spent much of the next few months in the library and her love of books grew and grew. She topped her class in story writing and her teacher said, 'One day there will be novels on the shelves with "Sue Moorcroft" on the spine.'
Although she didn't like him much, she eventually proved him right. Her first short stories to UK magazines were sold in 1996, one to The People's Friend and then another to My Weekly. My Weekly published first, beginning a writing career that was to span short stories, articles and columns, magazine serials, a writing guide, writing courses and bestselling novels. Along the way, she worked for a bank, a sports newspaper, a typesetter, a joinery company, as a creative writing tutor and a competition judge but nothing gave her the joy and satisfaction of her current job of 'author'.
Still an avid reader, Sue also loves family and friends, travel, dance and yoga. Though she's now given up her column for Girlracer.co.uk, she's a mad-keen motorsports fan, particularly Formula 1, Formula 2, Formula 3 and W Series. Please don't talk to her when she's watching a race.
Listen to Episode 84 Here
In This Episode
We had so much fun chatting with author Sue and here are some of the questions we got answered:
How did you become an author?
Her many part-time jobs over the years
What happened when she bought herself a new chair
Her #1 tip for new writers
Where she would like to visit and write about someday
Maps for her books
Kilts!
and so much more!
Books Mentioned in this Episode
A White Christmas on Winter Street
Other Books Mentioned
Connect with the Author
Sue would love to hear from you! So, here's how you can keep in touch with her:
Website: https://www.suemoorcroft.com/
FB Page: https://www.facebook.com/SueMoorcroftAuthor/
Instagram: https://www.instagram.com/suemoorcroftauthor/
Twitter/X: https://twitter.com/SueMoorcroft
Other Resources You'll Love
If you enjoyed this episode, then you'll want to check out these ones next.
Ep 49: Books Set in Amalfi Coast
Ep 71: Holiday Escape with Author Abigail Sharpe
Ep 77: Author Interview with Jennifer Probst
Here are 3 ways we keep up with our favorite novels and what's coming out each month:
Join Audible Premium Plus and get two free books. You'll be able to listen to old favorites or new titles each month.
And, you can try Kindle Unlimited Membership Plan for free for one month. You can find all the new books coming out each month.
This is one of my favorites. With your Amazon Prime membership, you have access to their Amazon First Reads each month. One free, new book at the beginning of each month! Not a member? Sign up now and get one month FREE!
Let's Keep in Touch
Thanks for listening to this episode. Let's keep in touch!
You can find me on Instagram: @abookloversadventures
Sign up for my newsletter and I'll send you my Read Around the World Challenge. Let's explore the world together one book at a time!