Ep 83: Author Interview with Lila Ferrari
Today's episode is a fun interview with award-winning author Lila Ferrari. From recipe testing to Vermont farm life to falling in love with romantic suspense, you are going to love hearing about Lila's life and journey as a writer.
Want to support me & my podcast? I'd love for you to Buy me a coffee!
Meet Lila Ferrari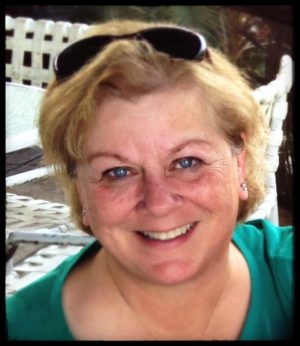 About Lila
It seems that I've been writing forever.
Poems, plays, short stories, cookbooks, grants, newsletters, newspaper articles, and now full-length novels.
Growing up in New England, where summers are sweet but winters are long and cold, has given me many opportunities to expand my creativity.
I have enjoyed basket weaving, spinning wool, quilting, canning, teaching, cooking, and traveling.
I have been a recipe tester, a cooking teacher, sailor, farmer, shepherd, cattle woman, chick herder, and Master Gardener.
Like many women, I have worked full-time, raised two children, and helped my husband's career.
Finally, I get to make my dream come true. After all, dreams never die, and new doors open every day.
Today, I live in sunny Florida with my husband enjoying paradise. Besides writing novels, I recently took up birding and photography. My photos have done well in local contests.
I'm an award-winning author. My romantic suspense stories have powerful themes of courage, redemption, and second chances. And, of course, love.
Listen to Episode 83 Here
In This Episode
I had so much fun chatting with author Lila and here are some of the topics we discussed:
How did you become an author?
Her life on a farm in Vermont
How she found her way to the romantic suspense genre
What is her writing process?
Why she enjoys writing series
What she's writing right now
Putting life experiences into her writing
Using Canva as a creative outlet to make book trailers
Book signings
and so much more!
Books Mentioned in this Episode
Brotherhood Alliance Series
Connect with the Author
Lila would love to hear from you! So, here's how you can keep in touch with her:
Website: https://www.lilaferrariwrites.com/
FB Page: https://www.facebook.com/lilaferrariauthor/
Instagram: https://www.instagram.com/lsferrariwrites/
Other Resources You'll Love
If you enjoyed this episode, then you'll want to check out these ones next.
Ep 81: Interview with Kate Breitfeller
Ep 74: Interview with Stephania Thompson
Ep 66: Interview with Author Connie Mann
Here are 3 ways we keep up with our favorite novels and what's coming out each month:
Join Audible Premium Plus and get two free books. You'll be able to listen to old favorites or new titles each month.
And, you can try Kindle Unlimited Membership Plan for free for one month. You can find all the new books coming out each month.
This is one of my favorites. With your Amazon Prime membership, you have access to their Amazon First Reads each month. One free, new book at the beginning of each month! Not a member? Sign up now and get one month FREE!
Let's Keep in Touch
Thanks for listening to this episode. Let's keep in touch!
You can find me on Instagram: @abookloversadventures
Sign up for my newsletter and I'll send you my Read Around the World Challenge. Let's explore the world together one book at a time!